SUNDAY SCHOOL CLASS SCHEDULE
9:45-10:45 am

Sunday School/Adult Bible Study Classes
All Sunday School Classes are to meet in the Fellowship Hall FIRST for our Sunday School Opening before breaking away into their individual classes.
Sunday Children's Classes (no Sunday School in July):
Pre-Schoolers through 5th grade will meet in the Fellowship Hall for Sunday School each Sunday at 9:45 am and remain there as one class. Class is led by Kay Thorp with help from parents.
"Join us as we study God's Word!"
Youth Classes on Sunday Mornings (no Sunday School in July):
6th-8th grade Confirmation class meets in the 4th Grade classroom (014). Class led by Rich Baldwin, Ed Nordmeyer and Joel & Jeanine Helms.
High School Youth Bible Study Class meets in the former media center. Class led by Katie Wenger.
Sunday Adult Bible Study Classes (no Sunday School in July):
"40 Days of Prayer" - Starts off our Fall Season and is led by serveral Bible Study Leaders. Class meets on Sundays at 10:00 am out in the church sanctuary and then breaks out into several small discussion groups. Our week-day small groups are also currently participating in this study.
WEEK-DAY Adult Small Group Bible Studies (No classes during the summer - exception: E. Asheville group):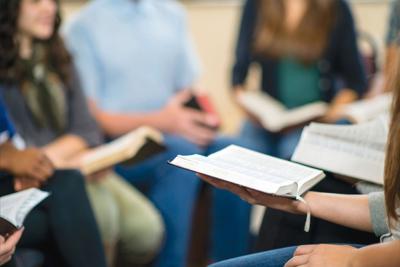 The East Asheville Small Group meets on Mondays at 7pm. This group meets in the home of Gerry and Peg Hardesty in Haw Creek and is led by Ed Nordmeyer. Please call Ed or Christelle Nordmeyer for more information or directions at 299-3626 if interested in joining. (Meets year round.)
The Schallhorn Small Group meets on Mondays from 5pm-7pm at the Schallhorn home; 17 Oakdale Drive, Candler. Please call Ed Schallhorn for more information or directions at 667-4117 or 775-4991. (Breaks during the summer months.)
The Stiemke Small Group meets on Mondays at 7pm at church in the media center. If you do not have a small group, we welcome you to come join us. For questions call Jean Stiemke 828-299-1534. (Breaks during the summer months.)

Pastor McFarland's Monday and Wednesday Small Groups meet inthe church narthex on Mondays and Wednesdays. For more information, please contact Pastor McFarland at pastormcfarland@elcsmail.org. (Breaks during July.)